The PortableApps.com Platform is a full-featured portable software menu, backup utility, app store, automatic updater and application management system that ties all your portable apps together and lets you build your own custom portable app suite.
PortableApps Score: 0 of 5 based on 0 vote(s).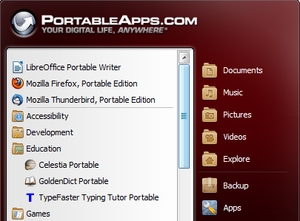 PortableApps.com lets you carry all your favorite apps on a portable device or cloud drive and use them on any PC. Now you can have your own browser with all your bookmarks and extensions, your full office suite, your photo editor, your whole music collection, your favorite games, your development tools and more. You can have everything you need for work and play with you on every PC you use. At work, at home, at school, visiting family and friends, even while traveling. And all your bookmarks, emails, personal files and settings stay right on your drive, too. Now, every PC becomes your PC.